Philippines Remittance Market Report 2022: Remittances on Account of Migration Activities Fuel Sector
Global Philippine Remittance Market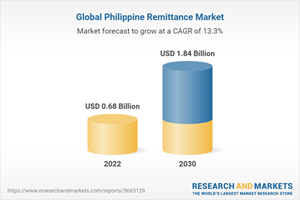 Dublin, March 09, 2023 (GLOBE NEWSWIRE) — The "Philippines Remittance Market Size, Share & Trends Analysis Report by Mode of Transfer (Digital, Traditional (Non-digital)), by Type, by Channel (Banks, Online Platforms (Wallets)), by End Use, and Segment Forecasts, 2022-2030" report has been added to ResearchAndMarkets.com's offering.
The Philippines remittance market size is expected to reach USD 1.84 billion by 2030, growing at a CAGR of 13.3% from 2022 to 2030. The growth can be attributed to the initiatives taken by the Philippines government, such as financial literacy programs and the adoption of the 'International Day of Family Remittances'.
Furthermore, the increasing adoption of banking services across the country is another major factor expected to create new growth opportunities for the Philippines remittance industry.
According to the World Bank Group, it is expected that remittances to Low- and Middle-Income Countries (LMICs) will increase by 4.2% in 2022, reaching USD 630 billion. This comes on the heels of a near-record recovery of 8.6% in 2021, thereby expected to drive the growth of the industry. Moreover, the huge number of Overseas Filipino Workers (OFWs) employed in several countries are also contributing to the growth of the market. For instance, according to Philippines Statistics Authority, the total number of OFWs was estimated at 1.77 million from April to September 2020.
Additionally, the Philippines-based remittance service providers are continuously implementing new technologies, such as the integration of blockchain technology in the remittance platform for faster money transfers. For instance, in August 2022, a blockchain infrastructure company called Roxe announced its partnership with Cebuana Lhuillier, a money transfer service provider. This partnership aimed to enable clients in the Philippines to execute seamless cross-border remittance payments by combining Cebuana Lhuillier's extensive fund distribution methods and the Roxe blockchain network.
During the COVID-19 pandemic, the lockdown was imposed, which shifted people's attention towards digital means and technology. However, at the same time, in October 2020, ING and UNICEF introduced the 'Fintech for Impact' initiative to support fintech start-ups across the country. The top five start-ups, including BeamAndGo Pte Ltd, were chosen to receive equity-free financing as well as technical and commercial mentoring from ING, UNICEF, and other professionals for a year.
The selection of BeamAndGo was anticipated to the addition of functionality of helping migrants and their families to make responsible spending decisions for the household and manage their finances through its non-cash remittance services. Hence, such initiatives proved to be helpful for market growth during the COVID-19 pandemic.
Market Dynamics
Market Drivers
Remittances on Account of Migration Activities
Comprehensive Infrastructure for Remittances
Market Challenges
Inadequate Anti-Money Laundering Governance
Market Opportunities
Partnerships Between Companies Boosting Remittance Services
Philippines Remittance Market Report Highlights
The digital segment is expected to register the fastest growth during the forecast period. The growing internet penetration among Filipinos can be attributed to the segment's growth
The inward remittance segment dominated the market in 2021, attributed to the high migration rate of Filipinos in search of better job opportunities
The online platforms (wallets) segment is expected to witness the fastest growth over the forecast period. The developing infrastructure for online money transfer across the country is one of the major factors anticipated to drive the segment's growth
The personal segment is expected to witness the fastest growth over the forecast period, attributed to the growing use of remittance platforms for sending money for household purposes
Key Attributes:
| | |
| --- | --- |
| Report Attribute | Details |
| No. of Pages | 130 |
| Forecast Period | 2022 – 2030 |
| Estimated Market Value (USD) in 2022 | $0.68 Billion |
| Forecasted Market Value (USD) by 2030 | $1.84 Billion |
| Compound Annual Growth Rate | 13.3% |
| Regions Covered | Philippines |
Key Topics Covered:
Chapter 1 Methodology and Scope
Chapter 2 Executive Summary
Chapter 3 Philippines Remittance Industry Outlook
Chapter 4 Philippines Inbound Remittance Market Analysis
4.1 Total Flows to the Philippines (by value), 2019 to 2021
4.2 Breakdown per Corridor
4.2.1 Breakdown by the U.S.
4.2.2 Breakdown by Saudi Arabia
4.2.3 Breakdown by Japan
4.2.4 Breakdown by the U.K.
4.2.5 Breakdown by Canada
4.3 Breakdown/Market Share per Remittance Company
4.4 Breakdown of Receiving Channels (By Revenue)
4.5 Philippines Remittance Market Share by Receiving Channel (in Terms of Volume)
4.6 Average Costs of Remittance and Average Ticket Size
Chapter 5 Philippines Outbound Remittance Market Analysis
Chapter 6 Philippines Domestic Remittance Market Analysis
Chapter 7 Philippines Remittance Mode of Transfer Outlook
7.1 Philippines Remittance Market Share By Mode of Transfer, 2021
7.2 Digital
7.3 Traditional (Non-digital)
Chapter 8 Philippines Remittance Type Outlook
8.1 Philippines Remittance Market Share By Type, 2021
8.2 Inward Remittance
8.3 Outward Remittance
Chapter 9 Philippines Remittance Channel Outlook
9.1 Philippines Remittance Market Share By Channel, 2021
9.2 Banks
9.3 Money Transfer Operators
9.4 Online Platforms (Wallets)
Chapter 10 Philippines Remittance End-use Outlook
10.1 Philippines Remittance Market Share By End-use, 2021
10.2 Migrant Labor Workforce
10.3 Personal
10.4 Small Businesses
10.5 Others
Chapter 11 Competitive Analysis
Chapter 12 Competitive Landscape
Companies Mentioned
Paypal Holdings, Inc.
Worldremit Group Limited
Union Bank of the Philippines
the Western Union Company
Moneygram International, Inc.
Cebuana Lhuillier
Lbc Express Holdings
Mlhuillier
Palawan Pawnshop
Rd Pawnshop
For more information about this report visit https://www.researchandmarkets.com/r/ass32u
About ResearchAndMarkets.com
ResearchAndMarkets.com is the world's leading source for international market research reports and market data. We provide you with the latest data on international and regional markets, key industries, the top companies, new products and the latest trends.
Attachment
CONTACT: 
CONTACT: ResearchAndMarkets.com 
         Laura Wood,Senior Press Manager 
         [email protected]
         For E.S.T Office Hours Call 1-917-300-0470 
         For U.S./ CAN Toll Free Call 1-800-526-8630 
         For GMT Office Hours Call +353-1-416-8900