Contactless Payment Global Market Report 2022: Adoption of New Technologies Such as Host-Based Card Emulation and NFC Bolsters Sector
Global Contactless Payment Market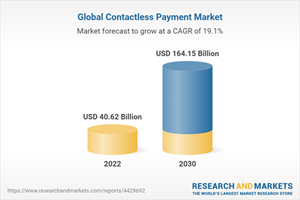 Dublin, Feb. 27, 2023 (GLOBE NEWSWIRE) — The "Contactless Payment Market Size, Share & Trends Analysis Report By Type (Smartphone Based Payments, Card Based Payments) By Application (Retail, Transportation, Healthcare, Hospitality), By Region, And Segment Forecasts, 2022 – 2030" report has been added to ResearchAndMarkets.com's offering.
The global contactless payment market size is expected to reach USD 164.15 billion by 2030, registering a CAGR of 19.1% during the forecast period. Growing adoption of new payment technologies, such as Host-based Card Emulation (HCE) and Near Field Communication (NFC) for the contactless payments, is anticipated to drive the market growth. Furthermore, a significant increase in digitalization and e-commerce platforms across the globe is boosting the growth of the contactless payment market.
Thales Group, in a survey, stated that by 2023, there would be more than 2.6 billion contactless payment cards in circulation, owing to the technology's rapid adoption in the markets such as South Asia, the U.S., and Brazil. Contactless card transactions are rapidly increasing in early-adopter markets such as the U.K., Canada, Europe, and Australia. For instance, "tap and pay" now accounts for more than 40.0% share of all card transactions in the U.K.
An increasing number of companies in the North American region are focusing on innovative solutions for the e-wallet market. For instance, in January 2022, Rev USA, Inc., a Fintech company, announced the worldwide availability of The X World Wallet, an app-based wallet. The X World Wallet has the capability to easily load to the users existing bank accounts and can be linked to digital or physical Visa cards that can be easily added to the Google, Apple, and Samsung Pay wallets for tap-and-go convenience.
The COVID-19 outbreak played a vital role in driving the growth of the contactless payment market during the forecast period. Contactless payments are in demand among restaurants due to their greater convenience, ordering accuracy, and lack of human contact. Moreover, various digital wallet companies in Canada also experienced significant growth as consumers focused more on digital wallet solutions during COVID-19. For instance, Interac Debit for In-App and In-Browser Payments experienced double-digit growth in Canada since its launch in 2019.
Contactless Payment Market Report Highlights
The smartphone based payments segment is expected to witness rapid growth during the forecast period. Growing adoption of digital wallets for making contactless payments worldwide is expected to drive the growth of the segment
Retail segment dominated the market in 2021. Adoption of the new payment technologies by the retailers in order to increase revenue and reduce transaction time is expected to propel the growth of the segment
North America dominated the regional market in 2021. Growing demand for contactless payments across the region is expected to play an important role in driving the growth of the regional market
| | |
| --- | --- |
| Report Attribute | Details |
| No. of Pages | 140 |
| Forecast Period | 2022 – 2030 |
| Estimated Market Value (USD) in 2022 | $40.62 Billion |
| Forecasted Market Value (USD) by 2030 | $164.15 Billion |
| Compound Annual Growth Rate | 19.1% |
| Regions Covered | Global |
Key Topics Covered:
Chapter 1 Methodology and Scope
Chapter 2 Executive Summary
Chapter 3 Contactless Payment Industry Outlook
Chapter 4 Contactless Payment Type Outlook
4.1. Contactless Payment Market Share By Type, 2021
4.2. Smartphone Based Payments
4.3. Card Based Payments
Chapter 5 Contactless Payment Application Outlook
5.1. Contactless Payment Market Share By Application, 2021
5.2. Retail
5.3. Transportation
5.4. Healthcare
5.5. Hospitality
5.6. Others
Chapter 6 Contactless Payment Regional Outlook
Chapter 7 Competitive Analysis
Chapter 8 Competitive Landscape
Companies Mentioned
Thales
Visa Inc.
Giesecke+Devrient GmbH
Mastercard
Apple Inc.
Paypal Holdings Inc.
American Express Company
Amazon.Com, Inc.
Alibaba.Com
Payu
For more information about this report visit https://www.researchandmarkets.com/r/aagn71
About ResearchAndMarkets.com
ResearchAndMarkets.com is the world's leading source for international market research reports and market data. We provide you with the latest data on international and regional markets, key industries, the top companies, new products and the latest trends.
Attachment
CONTACT: 
CONTACT: ResearchAndMarkets.com 
         Laura Wood,Senior Press Manager 
         [email protected]
         For E.S.T Office Hours Call 1-917-300-0470 
         For U.S./ CAN Toll Free Call 1-800-526-8630 
         For GMT Office Hours Call +353-1-416-8900